Get User Meta Pro For Free! [Giveaway Campaign]
For a limited time, we're giving away the pro edition worth its weight in gold! (Check our Pricing Page) i.e User Meta Pro, as an year end black friday giveaway offer for our most loyal customers.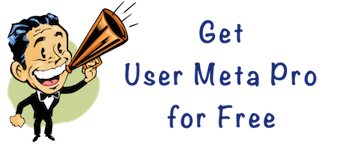 Check out what you will be getting through this offer in our homepage. You can easily take this offer by following a few simple steps.

Step 1: Spread The Word

Choose one of your preferred ways.
Share https://user-meta.com/user-meta-pro-free site (or any of our link/page) to at least two of your social platform (among Facebook, Twitter, Reddit (in related subreddits), Linkedin, Pinterest, Instagram) publicly. Some kind words or hashtags (#usermetapro) along would be much appreciated.
Or mention @UserMetaPro (preferably with some details saying what you love about us or this ongoing campaign) in any of your blogs, Medium articles, or YouTube videos.
Step 2: Connect With Us
Create an account on https://user-meta.com/promotional-registration/ so we can give you your deserving plugin.
Step 3: Send Us A Mail
Send an email at support(at)user-meta.com, with the subject "Grant My UMP Copy". Keep in mind to include the links of your posts where we can see what you've told about us and, also, your created User Meta Pro account's email address (the mail address you've used to open the account in step 2) on the email body.
A Few Things to Keep in Mind About The Offer:
* Upon availing the offer, you will get a 6 months single site license. After the license expires, you can continue using the plugin, but you won't receive any updates from us.

* It may take up to 48 hours for activating your pro license after the email is sent.
* Your shared posts, articles, or videos must be public and have to stay accessible for foreseeable future.

* You must include the accessible shared links (where the plugin is mentioned) in the email body.
* You can either share the on going offer https://user-meta.com/user-meta-pro-free/ links or any related link of the plugin.

* User Meta Pro team has the right to cancel this offer at any time.
Don't forget to check out the User Meta Lite. We are giving you free Captcha Field to add to your forms, ability to verify your visitors via email and many amazing features for free. Visit us in the official WordPress plugins directory for more details.
Thank You for Staying With User Meta. We Are Grateful For Your Support.