Restrict Content
This add on will help you to tailor all the users' permission to see your contents (pages/posts etc). You can moderate and censor your posts for different user class (i.e roles). And If you want to keep your premium content away from prying eyes, then you can set some of your contents available only for your logged in users too.
Activate your add-on
Go to Dashboard > User Meta > Add on , you will find the Restrict Content add on on the bottom of the page. Toggle the switch to activate this add on.

Click on the Options button if you want your users to login from the specific post You can also customize your prompts and dialogs in different places from his settings panel.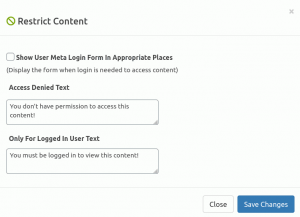 Features
Make exclusive contents just for registered users
Censor posts for roles
Create role based exclusive contents and moderate access to them
How to hide content
If you want to hide any specific post/page, in edit screen, locate the restrict menu at the right side-bar. It will be under Document tab, named UMP Restrict Content.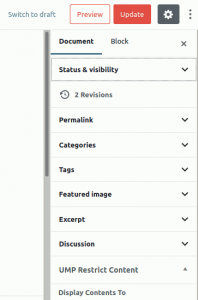 You have to open this menu and select, the Logged in User Only option.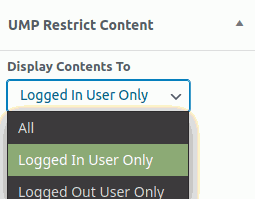 How to hide or display for specific
After you follow the steps above, click on the immediate option below Display Contents To . From there you can select role(s) to give permission for the post you are editing currently.